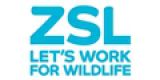 SPOTT Manager (Full-Time / Permanent)
Commensurate with experience (plus benefits)
Overview The Zoological Society of London (ZSL), a charity founded in 1826, is a world-renowned centre of excellence for conservation science and applied conservation. ZSL's purpose is to inspire, inform and empower people to stop wild ...
England (London & Greater),

UK

Expires

in 8 Day/s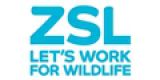 WZ Practical Learning and Administrative Assistant (Full-Time / Fixed-Term)
£26,042 p.a.
Overview We're ZSL, an international conservation charity. Our vision is a world where wildlife thrives and we're working every day to achieve this. From investigating the health threats facing animals, to helping people and ...
Expires

in 1 Day/s