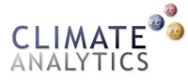 Student Assistant: Support in Stakeholder Engagement Team
We are currently looking for one student assistant (60h/month) to support our Stakeholder Engagement Team in the ISIpedia project which has been running since September 2017. The project aims at co-developing climate-impact indicators with ...
Expires

in 0 Day/s

Cities Advisor: SE Europe – Berlin, Bologna, Valencia, Warsaw, Vienna
EIT Climate-KIC is a knowledge and innovation community established in 2010 and funded by the European Institute of Innovation and Technology (EIT), a body of the European Union. Our purpose is to tackle climate change through innovation. We are ...
Expires

in 9 Day/s