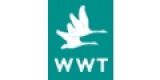 Senior Project Manager (International Programmes)
Wetlands are a key life support system for our planet. To meet Sustainable Development Goals and stem global biodiversity loss, we need to dramatically shift the way that we treat and manage the world's wetlands. WWT is on a mission to do ...
Expires

in 15 Day/s

Marketing & Communications Officer
£26,000 per year pro rata, 22.5 hours per week
Job purpose We are looking for an experienced communications professional keen to use their skills to help us expand our community response to the climate crisis. The postholder will be responsible for delivering a programme of communication, ...
Expires

in 16 Day/s