Get ready for a new adventure, meet new friends from all over the world, boost your CV with experience in primatology fieldwork and see for yourself what South America is really like. Whether you're preparing for a degree in biology, or a masters in primatology, this program will give you hands-on experience of conservation biology while you explore little known habitats and learn the skills you need to progress in your biology career.
As a PLT Primate Volunteer you'll have the opportunity to be a research assistant to PhD candidate Rebecca Smith, in a study of the ecological requirements of the hooded capuchin living in the single largest reamining fragment of Paraguayan Atlantic forest. You will be looking at ranging behavior, special use and territoriality, group social structure, feeding ecology, parasite loads and population genetics. The aim is to determine whether small fragments of Atlantic Forest can sustain viable capuchin populations in the long term. This is the only study of this species in the whole world! Example of activities you'll be directly involved in include:
Radio-tracking of groups of Sapajus cay

Use of camera traps to observe behaviour and group demographics

Diet selection

Development of a home range use map using ArcGIS.

Sleeping site analysis

Writing a project proposal and implementing a pilot study
Endemic to Paraguay, and wedged between two closely related Sapajus species, the biology of this species of capuchin is virtually unknown and its conservation status remains unclear. Due to extensive habitat destruction across their range in Paraguay, population numbers are predicted to be low. Therefore we consider it urgent to study these fascinating monkeys and their habitat. The project aims to establish the first long term research into the behaviour, ecology, and genetics of this sub-species. Para la Tierra needs volunteers to assist the project. Other duties will include trail cutting, trail marking, GPS work, map making and collection of other basic data whenever the monkeys are located. In addition, you will be able to get involved in PLT's other ongoing projects including working with lizards, frogs, bats and insects.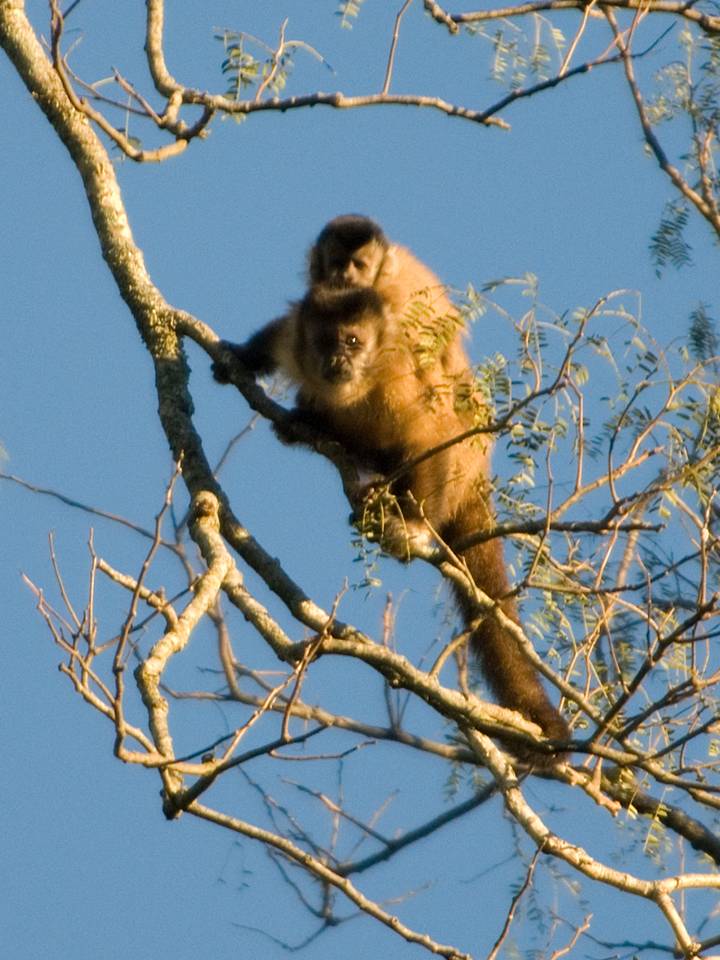 Paraguay remains one of the least visited countries in South America yet is also amongst the most friendly, safe and traditional. It's the only place where these smart monkeys are found! Paraguay is perfect for an adventurer ready to explore a different world off the beaten track. Para La Tierra operates from the small colonial town of Pilar, the capital of Neembucu. Our primatological research station is located elsewhere. Nestled into the southern tip of the San Rafael National Park, our station gives us access to the most important fragment of forest left in the country. The area has recently been named as one of the 200 most important biological sites on earth by the WWF!
So if you're motivated to do something 'Para La Tierra' and make a real contribution to conservation in a little-known corner of South America, then get in touch with Karina at paralatierra.py@gmail.com. No experience necessary, just a willingness to get your hands dirty!
Costs -
$875 per month for the 1st 2 months, $825 for each subsequent month. You can also pay on a weekly basis pro rata. There is a 25% discount for South American nationals.

This price includes all of your living costs during you stay with us. The cost includes three meals a day with unlimited fruit juice and mineral water, tea and coffee, accommodation, wifi, administrative costs and a small contribution to Para La Tierra's projects.
We have already hosted more than 300 volunteers from all over the world who have built lifelong friendships. References from past volunteers are available on request. You can chose your own arrival and departure dates with no minimum stay length and you can apply by sending a CV to paralatierra.py@gmail.com.
---