Paraguay is often overlooked in terms of conservation and scientific research. Fundación Para La Tierra (PLT) is a conservation NGO focused on the conservation of Paraguay's endangered habitats through scientific research, community engagement and environmental education. PLT runs the country's only long-term primate research project, and Paraguay's first intensive primatological field course.
The Field Methods in Primatology course is a comprehensive introduction to field primatology with particular focus on the hooded capuchin (Sapajus cay) in the Paraguayan Atlantic Forest and the black-&-gold howler monkey (Alouatta caraya) the humid Chaco and in a city environment. The course offers budding primatologists the perfect opportunity to gain hands-on experience of a range of field techniques in distinct environments.
The course is led by PLT's primatologist Rebecca Smith. Rebecca is the only professional primatologist in Paraguay and is a PhD candidate with the University of Aberdeen. She has extensive experience working with primates in captive and wild settings in four countries and has studied the hooded capuchin in the Paraguayan Atlantic Forest for the past 5 years. She has published several papers on the behaviour of the hooded capuchin, presented her research at 4 international conferences and completed courses in the use of animals in research and primate rehabilitation. The course introduces students to primatology through lectures, field exercises, discussion groups, active participation in Paraguay's only long-term primate field study, and independent research.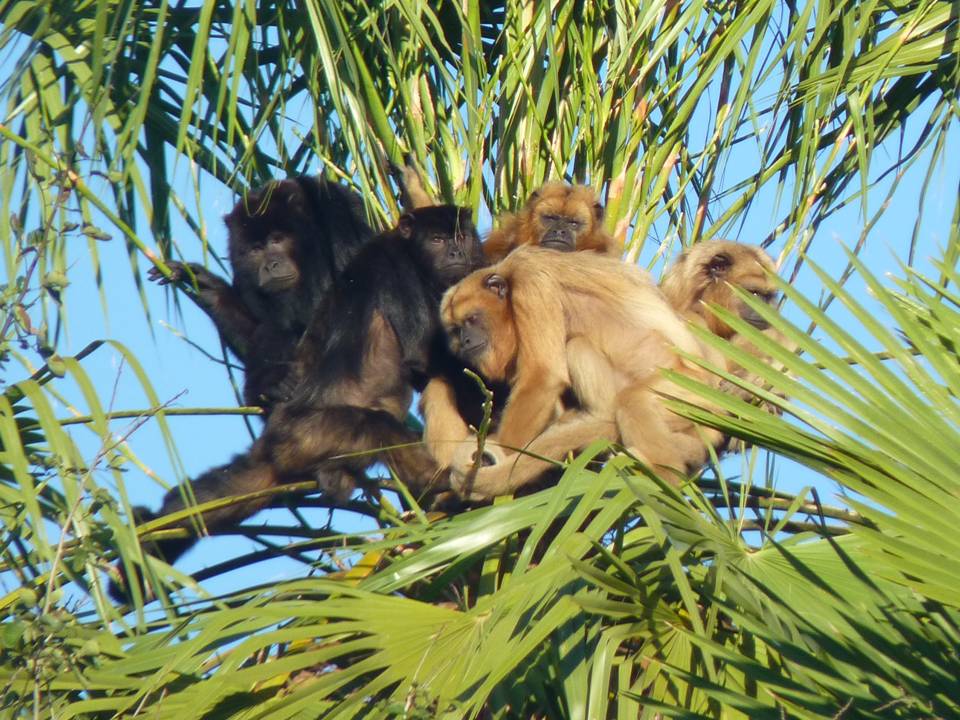 The course begins in the city of Pilar in Para La Tierra's Centro IDEAL base. You will participate in a series of workshops including primate taxonomy, study design, primatology in Paraguay and Atlantic Forest conservation, as well as be introduced to Pilar's urban howler monkey population and learn a variety of data collection techniques. You'll travel to the Paraguayan Atlantic Forest at San Rafael "National Park", participating in the ongoing long-term capuchin research project, while learning field skills including, but not limited to, camera trapping, VHF telemetry and primate habituation techniques. The final week is spent in Pilar and will include lecture and practical work relating to distance sampling and census methods, non-invasive biological sample collection, parasite analysis and social network analysis. During the final four days you will use your newfound skills to plan and carry out your own study on the urban howler monkeys,before presenting your results to the group.
Qualifications/Experience This course is perfect for anyone thinking about a career in primatology, tropical conservation or studying animal behaviour, including those with a degree, or working towards one. You must be at least 19 years old and speak English or Spanish. For more information and to apply send your CV and a cover letter to Karina Atkinson at karina@paralatierra.org. You'll be notified by email within a week if you've been selected for interview.
Tuition/Fees $1,995 for course tuition, three meals per day and an afternoon snack, lodging at the Centro IDEAL and Procosara research stations, course materials and expert instruction, on our early bird offer. Airfares to Paraguay, travel insurance and vaccinations and the hotel on the first night are not included.
Start and End dates. The course runs from January 12th - February 2nd, and June 21st - July 12th 2020. You must arrive in Asuncion the day before the course starts.